June 11, 2015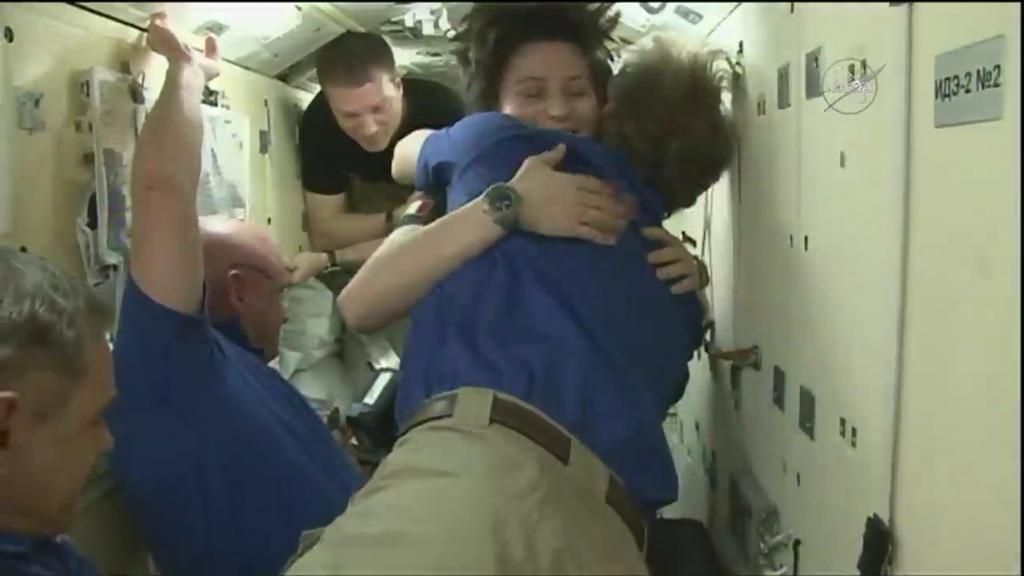 Returned Space StationCrew Members Helped Advance NASA's Journey to Mars, Benefits to Humanity
Though they had conducted hundreds of science and technology experiments aboard the International Space Station during their 199 days in orbit, thethree crew members returning to Earth Thursday had at least one important experiment waiting for them on the ground. Inside a medical tent, researchers put the explorers through a battery of tests, measuring their balance and ability to navigate tasks, like stepping over obstacles. Astronauts landing on Mars after a similarly long duration in space won't have the benefit of a medical team waiting for them. Understanding how the human body re-adapts to gravity is key to planning for future human missions deeper into the solar system.
Experiments like the Field Test are just one of the ways space station crews are helping advance NASA's journey to Mars while making discoveries that can benefit all of humanity. New science and technology investigations were daily activities for NASA astronaut Terry Virts, Samantha Cristoforetti of ESA (European Space Agency), and Anton Shkaplerov of the Russian Federal Space Agency (Roscosmos) aboard the orbiting laboratory during Expeditions 42 and 43.
Research highlights from the returned crew members' time aboard the space station include the first 3-d printed tool in space. The capability could be key in helping astronauts become more independent on missions far from Earth.
The human body experiences numerous changes in microgravity. Mitigating challenges like loss of bone and muscle mass are some of the reasons astronauts exercise two hours a day while in space. A recent experiment conducted by the space station crew is looking to solve the puzzle of why more than half of astronauts experience changes in their vision. The Fluid Shifts experiment tests one theory by using special pants to help pull fluids from an astronaut's upper body to their legs – similar to the effect gravity has on our bodies here on Earth.
A similar experiment called Drain Brain, conducted by the crew, uses a neck collar to relieve pressure from inside an astronaut's head, which could help relieve headaches caused by lack of gravity.
Other experiments conducted by the crew, like Coarsening in Solid Mixtures-4, have a direct benefit to humanity – in this case, helping improve the design of manufactured materials.
Those on social media who followed posts by Virts (@AstroTerry) and Cristoforetti (@AstroSamantha) may have seen online conversation "buzzing" about the new espresso machine that arrived on the space station in April. While providing a creature comfort to the crew on orbit, the Capillary Beverage study is testing real science, helping researchers better understand how fluids move in space.
Many of their social media posts helped capture the imagination of people around the world with spectacular views of Earth, including this time lapse of a blizzard over the east coast of the United States in January. The space station's vantage point 250 miles above the planet provides researchers a unique opportunity to study our changing Earth right now.
In March, Virts, Cristoforetti and Shkaplerov welcomed three new crew members to the orbital outpost: NASA astronaut Scott Kelly and Russian cosmonauts Mikhail Kornienko and Gennady Padalka of Roscosmos. Kelly and Kornienko will spend one year aboard the space station to further test the effects of long-duration microgravity on the human body.
The returned crew members also greeted four cargo spacecraft, including two SpaceX Dragon vehicles which launched multiple experiments to orbit and returned science samples to Earth. NASA's work with the U.S. commercial space industry is opening low-Earth orbit to new opportunities for economic growth and private research like never before. NASA plans to use a new generation of spacecraft, privately developed and operated by Boeing and SpaceX, to launch astronauts to the space station once again from the United States. During his space station stay, Virts conducted three spacewalks to help reconfigure the space station in preparation for these U.S.
Research on the returned crew members will continue over the next few weeks, as they acclimate to life back in gravity, providing key data for future crews training for life aboard the space station, off the Earth for the Earth.
Last Updated: June 12, 2015


Editor: Trent Perrotto